Equine Pressure Measurement
The CONFORMat™ Saddle system (see further down for Hoof system) provides accurate, real-time information on pressure distribution and Center of Force (CoF) trajectory under an equine saddle that helps riders, trainers and researchers develop optimal seating position and saddle fit for each individual horse/client. The unique, truly flexible design makes the CONFORMat the most advanced pressure mapping system available for saddle pressure analysis providing important information across the whole of the horses back, not just down either side.
CONFORMat™ Saddle Pressure System Features
Specially designed CONFORMat sensor conforms to the shape of the horse/saddle to eliminate false pressure readings
2,000+ individual sensing elements provide accurate, high-resolution readings
All hardware held within a custom saddle cloth developed in partnership with The Saddle Research Trust to ensure rider is not tethered to the equipment in any way.
Wireless and tethered hardware options available with easy upgrade paths to also measure stirrup, girth and tack pressure.
Benefits of Pressure Mapping:
Obtain immediate objective data to assess saddle fit. Make changes to saddle position and padding, and see immediately the effects it has.
View real-time pressure and CoF trajectory information from under the saddle during training, exercise and even competition. System is unobtrusive and does not effect performance of the saddle.
Engages riders with vivid colour display and provides them with clear, visual feedback
Aids in identification of unseen asymmetries and pelvic obliquities
Provides accurate data for answering research hypotheses or development questions
CONFORMat™ Saddle Pressure System Applications
Aid saddle fit and manufacture
Validate saddle padding selection and adjustments
Aid in identification of unseen asymmetries and pelvic obliquity
Aid rider education for improved performance and riding style
Support animal welfare research investigating equine spine care and pressure wound care
CONFORMat™ Software Features
Pressure on the individual Sensels™ can be assessed numerically, easing identification of high pressure areas
Display 2D and 3D real-time and recorded data
Display contact area, average and peak pressures, and Centre of Pressure and its trajectory
View data frame by frame
Side-by-side comparisons of pre- and post-treatment conditions
Measure distance between two points (anatomical landmarks or sites)
Isolate and analyse specific regions
Import and export subject movie files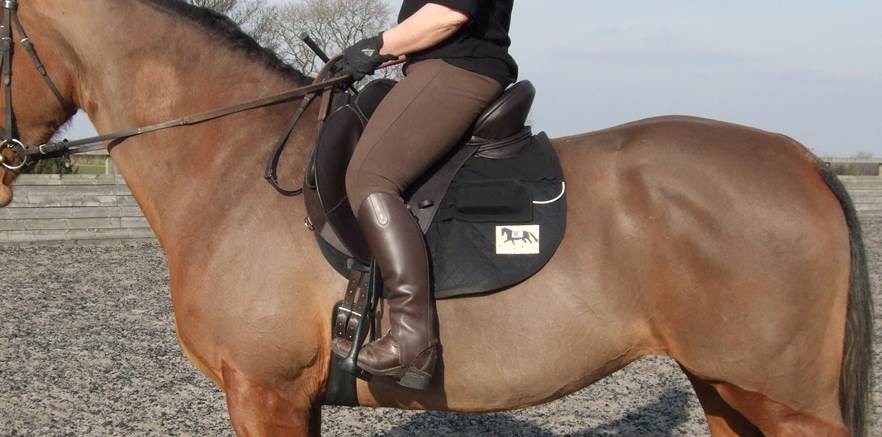 The Hoof system provides accurate, real-time information on pressure distribution and Center of Force (CoF) trajectory under the hoof of equine or a large animal, giving insight into gait and ambulatory function. Gain data unavailable with the naked eye on different shoeing techniques and hoof boot styles, and how they affect animal stability and hoof movement.
Hoof™ Pressure System Features
Combines practical biomechanics with computer aided technology to revolutionise the analysis, interpretation, and treatment of equine or large animal gait and ambulatory function.
Offers instantaneous data at every critical phase by providing objective, quantifiable data to effectively treat lameness, hoof, shoeing, and other gait related disorders in shod and unshod animals
Wireless capability allows for accurate data capture of the horse's true gait up to 100 meters away from the computer
Scanning speed of 100 Hz with the wireless system and 750 Hz with the data-logger system.
The Hoof sensor is specifically designed for animal hooves and paws
Benefits of Pressure Mapping:
Manage animal gait and ambulatory function
Reduce lameness by providing early assessment and institution of proper treatment
Use in pre-purchase examination or performance testing
Easy to apply and use in shod or unshod animals
Document analysis and treatment plus print data and graphs
Hoof™ Pressure System Applications
Animal gait studies and research
Detect hoof imbalances
Assist in differentiating the causes of lameness, such as laminitis, caudal heel syndrome, and degenerative joint disease.
Design and evaluate appropriate shoeing for performance horses.
Evaluate and monitor responses to variable treatments such as joint injections, surgery, pain medication, or corrective shoeing.
Assess and confirm soundness
Hoof™ Software Features
Display 2D and 3D real-time and recorded data
Display contact area, average and peak pressures, and Center of Pressure and its trajectory
View data frame by frame
Side-by-side comparisons of pre- and post-treatment conditions
Measure distance between two points (anatomical landmarks or sites)
Isolate and analyse specific regions of the hoof
Import and export subject movie files