The CONFORMat™ system provides accurate, real-time information on pressure distribution and Center of Force (CoF) trajectory that helps providers develop optimal seating and positioning for each individual patient. The unique, truly flexible design makes the CONFORMat the most advanced pressure mapping system available for seat and back analysis.
CONFORMat™ Pressure System Features
Specially designed CONFORMat sensor conforms to the shape of the patient and support surfaces to eliminate false pressure readings
2,000+ individual sensing elements provide accurate, high-resolution readings
In a recent study1, the CONFORMat was found to have superior performance over other interface pressure mats on:
Pressure magnitude readings at areas of highest loading and at the most complex curvatures.
Buttocks immersion indicating least amount of hammocking.
Least overall influence between the buttocks and common seat cushions.
Benefits of Pressure Mapping:
Helps optimize cushion selection and custom seating development
Provides justification and documentation for treatment decisions
Engages patients with vivid color display and provides them with clear, visual feedback
Aids in identification of unseen asymmetries and pelvic obliquities
Provides accurate data for answering research hypotheses or development questions
1Pipkin & Sprigle (2008) Effect of Model Design, Cushion Construction, and Interface Pressure Mats on Interface Pressure and Immersion. JRRD, Vol. 45, No. 6, pp. 875–882.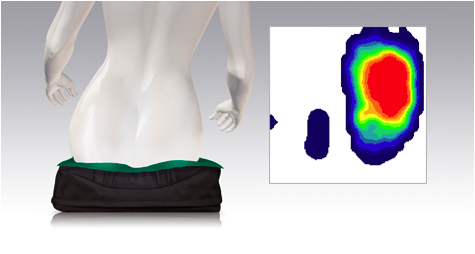 CONFORMat™ Pressure System Applications
Screen for high pressure areas that may be at increased risk for sores, ulcers, and wounds
Monitor progression and treatment of wound ulcerations
Validate wheelchair cushion selection and adjustments
Aid in identification of unseen asymmetries and pelvic obliquity
Pre- and post-surgical evaluations
CONFORMat™ Software Features
Pressure on the individual Sensels™ can be assessed numerically (box inset), easing identification of high pressure areas
Display 2D and 3D real-time and recorded data
Display contact area, average and peak pressures, and Centre of Pressure and its trajectory
View data frame by frame
Side-by-side comparisons of pre- and post-treatment conditions
Measure distance between two points (anatomical landmarks or sites)
Isolate and analyse specific regions
Import and export subject movie files